A year ago, we released The Pension Pac-Man: How Pension Debt Eats Away at Teacher Salaries, which showed that, over the last 20+ years, teacher salaries have not kept up with inflation, but total teacher compensation has. That's due in large part to rising pension costs that, like the proverbial Pac-Man, are eating further and further into teacher compensation.
As the Wall Street Journal reported over the weekend, this trend is broadly true for all American workers. But the magnitude is much larger for public school teachers. As we showed last year, teachers have higher retirement costs than any other major group of workers, even other public-sector employees. As a percentage of their total compensation package, teacher retirement benefits eat up twice as much as other workers.
This trend has not abated. The graph below uses data from the Bureau of Labor Statistics to show the annual change in employer costs by category. Over the last 15 years, teacher salaries have risen an average of 1.6 percent per year. That's less than inflation. In comparison, insurance costs are teachers have risen by 5.2 percent per year. That's a lot, but retirement costs have risen even faster, by 7.4 percent per year.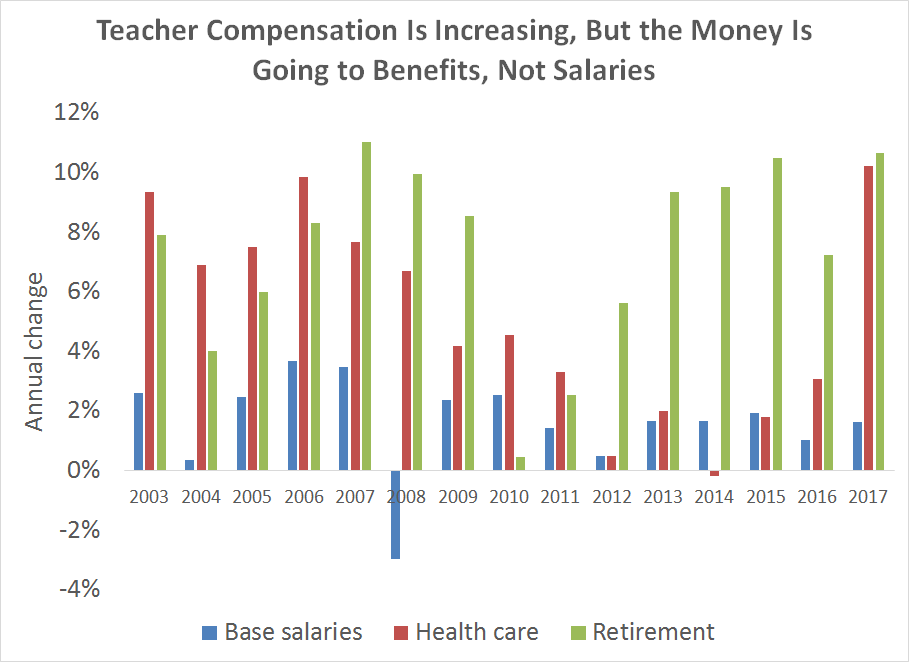 Most of these costs are due to rising pension debts, not to pay for actual teacher retirement benefits (see Figure 3 here). Until states get their debt costs under control, teachers will continue to see higher and higher shares of their compensation eaten up by retirement costs, with less and less money going into their pockets.