Stagnant teacher salaries have been a source of political consternation in recent months. Striking teachers in five states have pointed to low salaries as a key reason for walking out. Meanwhile, Los Angeles teachers are threatening to strike as well, and Miami voters will be deciding on a big increase for teacher salaries this fall.
While teachers make less money than similarly educated professionals in other fields, another claim often made by teachers is that their salaries have seen no improvement over the last few decades. They point to average teacher salaries, which have declined by $630 in real dollars since 1991, to bolster their claims. However, average teacher salaries alone do not tell the full story of what's happening to teacher compensation.
Chad Aldeman explains this concept in more detail here, but to summarize, declining average teacher salaries may reflect changes in teacher cohorts rather than an actual decline in compensation for teachers at any given point in their career. Young, newly-hired teachers are paid less than experienced teachers. For this reason, if one experienced teacher retires and is replaced by a first-time teacher being paid an entry-level salary, average teacher salary declines despite the fact that no teacher's pay was cut. This means that lower average teacher salaries don't necessarily indicate worsening conditions for teachers. Instead, they could indicate that the profession has become more mobile.
Another way of looking at teacher compensation can be found in state teacher pension plans' actuarial valuations. These publications include a list of assumptions used to estimate the plan's future payouts, including assumptions for teacher salary growth rates. These assumptions are compiled through regular observations of what's happening in the state, meaning that the salary growth rates should closely mirror the actual experiences of teachers at the time.
These salary growth rate assumptions can tell us a lot about how teacher compensation has changed over time. If the growth rates are going down, that means that teachers' salaries are not growing at the same pace as they used to, bolstering claims that teachers are losing out.
So, do these salary growth rates tell the same story as declining average teacher salaries? Unfortunately, the overall answer appears to be yes. Not all states report the data every year or keep their reports online, but we took a random sample of five states (Arkansas, Connecticut, Michigan, Missouri, and Texas) with actuarial data going back to at least the mid-2000s. Each state's nominal salary increase assumptions demonstrated a marked decline, and four out of five states saw decreases in real growth rates as well.
One way of visualizing this change over time is to look at how real salaries that started at the same level would progress over a career as each state's assumptions changed. For example, here's a graph of what a Missouri teacher's salary growth would look like over a 30-year career after each revision of the state's actuarial assumptions over the last decade, keeping their starting salary constant at $40,000: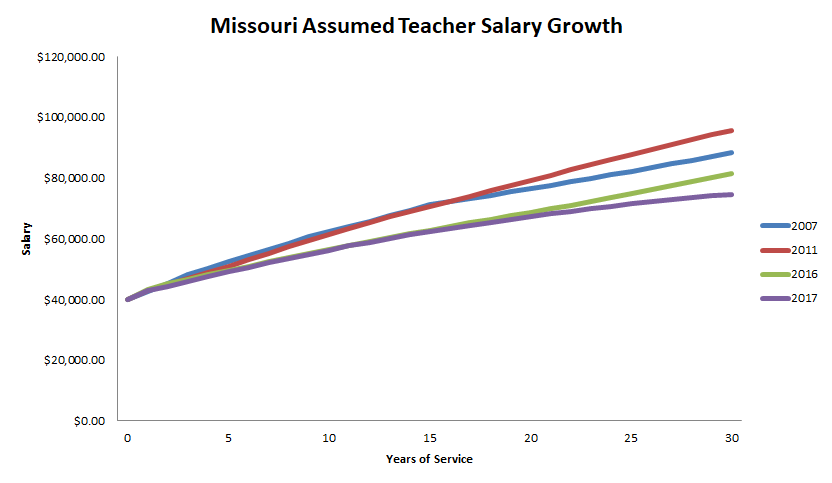 In 4 of the other 5 sampled states, the graphs look similar to Missouri's. In every state but Connecticut, real teacher salary growth is lower now than it was in the mid-2000s*. By the end of teachers' careers, these differences translate to thousands of dollars less in real yearly salary:
In Arkansas, a teacher who began her career with a salary of $40,000 in 2004 would have been expected to make $95,824 after 30 years. Today, she would be expected to make $79,384.

In Connecticut, a teacher who began her career with a salary of $40,000 in 2004 would have been expected to make $61,538 after 30 years. Today, she would be expected to make $74,988.**

In Michigan, a teacher who began her career with a salary of $40,000 in 2002 would have been expected to make $143,676 after 30 years. Today, she would be expected to make $140,272.

In Missouri, a teacher who began her career with a salary of $40,000 in 2007 would have been expected to make $88,361 after 30 years. Today, she would be expected to make $74,648.

In Texas, a teacher who began her career with a salary of $40,000 in 2006 would have been expected to make $82,052 after 30 years. Today, she would be expected to make $63,361.***
There's one big caveat here: we don't know how average starting salaries have changed over this timeframe. Even if salary growth rates are decreasing, it's possible (although unlikely) that a large simultaneous rise in average starting salary could mitigate the slower growth.
That being said, there's reason to believe that these declines really do signal a worsening of teacher pay. For one, it corroborates what we're seeing in the trends in average teacher salaries. In addition, despite education budgets increasing in many states over the last decade, these declines in salary growth are coming at the same time that benefit costs are ballooning massively, eating more and more into the money that could be available for teacher salaries. As contributions to unsustainable teacher pension and health benefit plans continue to rise, many cash-strapped municipalities are facing impossible choices between paying teachers what they deserve or maintaining adequate funding of other core services.
Sadly, it's hard to see these declines reversing themselves in the near future. Benefit spending will continue to ramp up over the next few years in most states. And if teacher salaries have declined throughout a period of economic expansion, it's frightening to imagine what might happen if another recession hits and budgets are slashed. Nevertheless, we owe it to our teachers—and our students—to find the money to ensure that teachers are compensated in ways that fully reflect their worth and skill.
*Years vary based on data availability and when the states updated their assumptions.
**Although Connecticut's nominal salary growth rates have declined, the state lowered their inflation assumption from 4% to 2.75% over the same time period. For this reason, assumed real salary growth is higher today than it was in the mid-2000s.
***Texas reports separate salary increase assumptions for men and women until 2008. The pay growth rate used in 2006 is for women only and is slightly lower than the growth rate for men. This means that the fall in average salary increase over this time period is actually slightly greater than what is reported above.